Massage treatments
"The physician must be experienced in many things, but most assuredly in rubbing. For rubbing can bind a joint that is too loose, and loosen a joint that is too rigid". Hippocrates, founder of medicine. 500 BC
Massage has both rehabilitative and preventive effects. Massage can be used as a treatment in many different contexts. The positive physical and mental effects are many.
Makes strained muscles softer and more suple
Increases blood circulation in the muscles
Increases lymphatic drainage
Strengthens the immune system
Has a relaxing effect on the body
Provides deeper, slower breathing
Affects the bodies inner organs in a possitive way
Increases body awareness
Helps prevent scar tissue after muscular and othe soft tissue injuries
Has a positive effect on exercise and sports related muscle soreness
Reduces pain and tension
Reduces stress
Has a calming effect on the nervous system
Increases our ability to concentrate
Increases the bodies overall well-being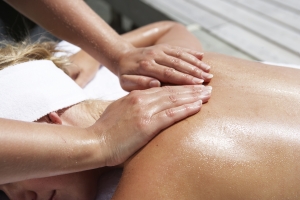 Classic Massage
A massage treatment that suits everyone, whether you want to melt your muscle tension or just have a nice break. This massage has many positive effects both mentally and physically. For example, it strengthens the immune system, relives stress and increases blood circulation.
Massage Plus
Why not try one of our add ons? We add an extra 10 minutes to your massage treatment and you can choose one of the following:
– Scalp massage
– Eyelash tint
– Tidy eyebrows
– Facial cleanse & massage
– Pore cleanse, back
Deep tissue
Like it's named, deep. It is suitable for those who want better mobility in their joints and muscles. Trigger points may also be included in this treatment. This massage is used to prevent long-term pain, injuries and relieve muscle soreness. Tell us what your needs are so we can adjust the treatment accordingly.
Kallbadhuset de luxe
In this luxury package, we give you a massage from head to toe. During the 80 minutes we massage the neck, back, legs, feet, arms, face and hands. This massage will soothe your body and soul and is recommended for those who are in need of some relaxation. 80 min 910:-
Sten Sture
50 min 650:-
Pregnancy Massage
A pregnancy is a wonderful thing, but can also be tiring, stressful and the extra weight can lead to discomfort. Pregnancy massage is beneficial for both you and your Child, tt can help reduce aches, pains and even relieve emotional stress, keep blood pressure steady and really help you relax. In addition, it stimulates your inner circulation, allowing nutrients and fluid to reach the placenta and the baby. These are all important factors for you and your baby's health and may reduce the risk of complications during your pregnancy.
25 min 430:-
50 min 650:-
Scrub & Massage
This treatment starts with a relaxing back and neck massage, the therapist then exfoliates the body with scrub gloves and a wonderful salt scrub from Maria Åkerberg. It's called Salt Scrub Energy and has a wonderful scent of lemongrass, rosemary, juniper and lavender. Now you get to sit in the sauna with a wonderful view of lake Åsunden and let the oils in the scrub sink even deeper into the skin with the help of the heat. Feel your skin, it's so soft and silky! The best thing about this treatment is that you get to sit in the sauna as long as you want. Relax, shower off the scrub, sit in the sauna again, maybe even take a dip in the lake, it's up to you!
25 min 480:-
Hot Stone
During this treatment you're massaged with warm oils and hot lava stones. The heat gives the massage a deep effect that dissolves muscle tension and reduces your stress. Choose Hot stone massage when you really want to relax, and forget space and time. Due to the heat, we recommend this treatment for those who suffer from athritis. 25 min 460:- 50 min 680:- 80 min 960:-